Industrial
From building control panels, wiring lines, moving or relocating electrical drops, our team has vast experience automotive, food & beverage, and manufacturing.
Residential
We have experience with both wood or steel construction in doing ensuite wiring, fire alarm, security, telephone entry and communication wiring.
Commercial
Experienced at both new construction and renovation, our crews can handle any commercial project including (but not limited to): office buildings, banks, retail stores, and warehouses.
Institutional
From schools, banks, and museums to extended living facilities, we have the experience you are looking for.
Infrastructure
We offer all underground services, including site lighting and power distribution.
Networking Solutions
We offer networking solutions such as cable installations and network terminations.
Design-Build
We offer a full design build from start to finish and work closely with an engineering team to get the job done right. Whether it is a lighting upgrade, power upgrade or redesigned electrical layout, we have the experience to handle the task. We can assist in choosing lighting systems to suit any application or budget, whether it be a complex project or a basic lighting redesign of an apartment building to industrial facilities.
Infrared Service
We can assist our customers in state-of-the-art troubleshooting. Our professionals can take thermal images of all electrical components and determine if there are any hot spots or loose connections. This allows problems to be corrected before costly damages occur. We can take photos, generate a report, follow up with a quote to repair faults and lastly repair identified issues.
Full Automation Integration
We offer full automation integration, using Allen Bradley PLC's and human interface modules. Our touch-screen programming can be designed in-house to suit your specific application. Our skilled technicians can provide complete installation and programming packages to suite any task.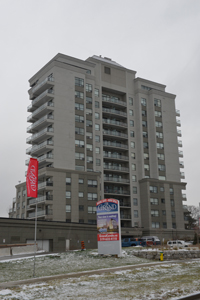 Waterscapes – The Grand
The Grand is a recent project of ours completed in 2011. This beautiful building can be seen by all driving through Cambridge right on Water Street. This project took well over a year to complete and features 13 stories of condominium living.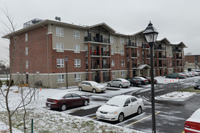 Preston Meadows
Preston Meadows is a four story condominium located in Cambridge. We have done multiple projects that are very similar to this one. We take pride in all of the electrical work in each model, including versions with underground parking and street lighting .

Being general manager at a food processing plant, I have had the opportunity to oversee Juno Electric's workmanship and skill level first hand. Juno Electric has always shown excellent quality, trouble shooting skills and design principles in automating electrical equipment and lines. Their knowledge and experience has been invaluable in designing and installing new processes that have been implemented throughout my tenure
I have used the services of Juno Electric for a number of years. Juno has done the electrical contracting work for me on large construction contracts, significant renovation projects and they have also taken care of very small service calls for my business. Their employees are always personable and friendly. The quality of that Juno performs is also always first class. They respond to my requests quickly and I find their fees to be quite reasonable. I would highly recommend Juno for any electrical services project.
We have worked with Juno Electric on a number of projects where the electrical contract was in excess of $1,000,000.00. In every instance we have found that they were efficient, they coordinated their work, they were proactive in addressing problems and their pricing on extras was reasonable. We do not hesitate to recommend them for any project no matter how large or small. They are always on our approved list.